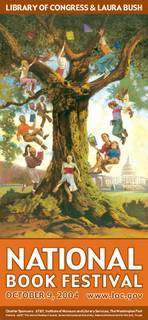 The Library of Congress and Laura Bush are sponsoring the 4th
National Book Festival
, Saturday, October 9, 2004.
No matter what your taste or interest, there is a pavilion (or two or three or more!) for you at the 2004 National Book Festival.

This year the festival pavilions, featuring more than 70 authors, illustrators, and poets, will again be conveniently located on the National Mall between 7th and 14th streets. The popular "Children," "Fiction & Imagination," "History & Biography," "Home & Family," "Mysteries, Thrillers," "Poetry" and "Teens & Children" pavilions will be joined by the first-ever "Science Fiction & Fantasy" pavilion, with a day-long program featuring well-known authors for this popular genre.